Raconteur partnership renewed
We are to partner with Raconteur for its intellectual property supplement, read by over 1 million people, again in 2020.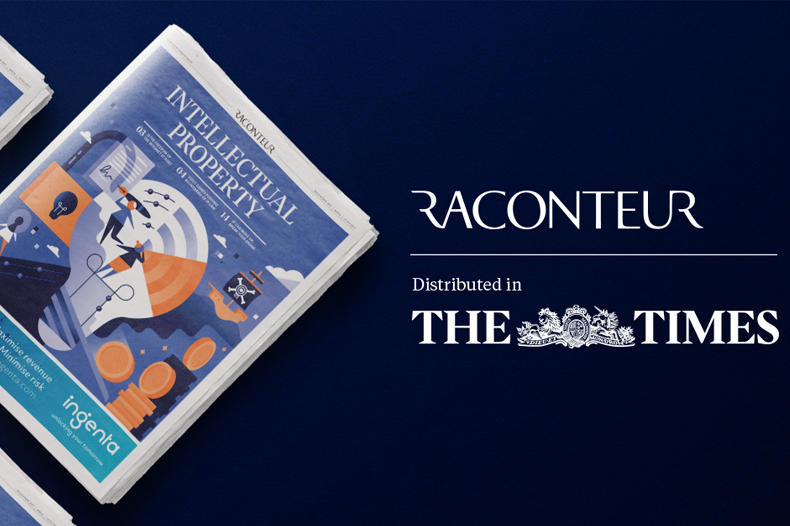 We will once again be a publishing partner with Raconteur on its 16-page "Intellectual Property" special report, to be published to be published in The Times and on The Times iPad edition homepage on Thursday 30th January 2020..
We are working together to create the leading, most high-impact compendium of independent analysis on IP this year.
Using best-in-class journalism and industry commentators, this publication will educate the senior business community of The Times on the current information gaps in patents, trade marks and copyright issues, including offering fresh insight and clarity on the UK's current position in terms of post-Brexit IP.
Click here to read last year's digital version
With a national circulation of 436,692 and an overall readership of 1.13 million, The Times is the leading business newspaper in the UK, reaching the largest multi-stakeholder audience of business leaders and C-suite executives than any other newspaper, including The Financial Times.
Raconteur is a premium independent publishing house, committed to producing high quality, special interest content for The Times & The Sunday Times newspapers since 2008.
The special report will profile no more than eight leading firms in this space and discounted commercial options are available to all CITMA members.
For further details, please contact the publisher of the report, Oliver Collins, who will be happy to provide more information about this and the return on investment that partners can expect from involvement.
Oliver Collins
Publishing Manager
Email: [email protected]
Direct: +44(0)203 877 3817
Mob: +44(0)7549524279