Our Royal Charter
We were awarded a Royal Charter in 2016. It underlines the expertise, trust, skill and quality of service CITMA members provide.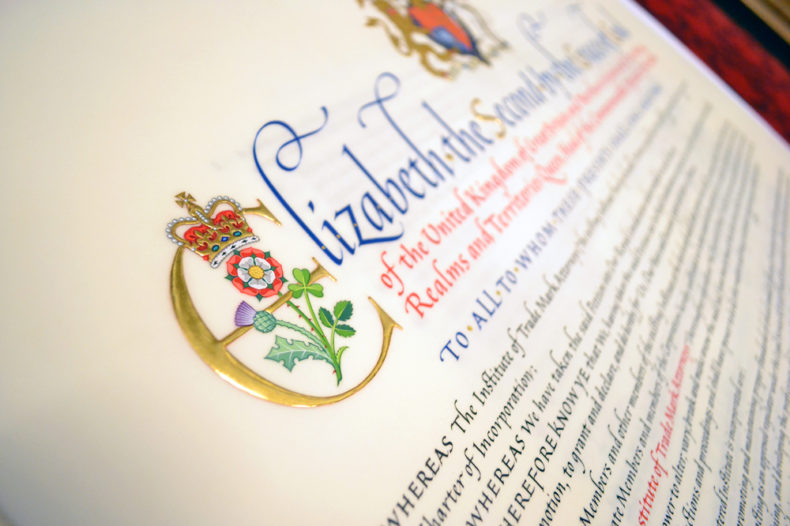 We are proud to hold a Royal Charter. It was awarded in recognition of our work, our members' distinctive and pre-eminent position as legal experts in the trade mark and design community, and the support we collectively provide the public.
Fully qualified CITMA members can use the official title Chartered Trade Mark Attorney, which signifies their status as the leading practitioners in their field.
Why our Charter is important
The Royal Charter underlines the expertise, trust, skill and quality of service CITMA members provide. By using a Chartered Trade Mark Attorney you should be reassured of the level of service you receive
Chartered Trade Mark Attorneys have high professional standards, maintained by a strong code of conduct and continuing professional development requirements. To be a Chartered Trade Mark Attorney you must pass a rigorous examination and training programme and continue to build on these skills.
Bringing recognition
Since 1934 we have sought to bring recognition to the work and role of trade mark attorneys, and this was the latest development of the profession.
We stand for quality of education, representation and regulation which continues today and beyond.
The Charter document itself was brought to life with gold leaf and colour by Timothy Noad, Scribe and Illuminator to HM Crown Office. It is scribed on vellum according to centuries-old tradition.
Chartered professionals date back to the 19th Century, and Royal Charters much further back than that – they are steeped in history. It is a well-known term for a number of professions from accountants to civil engineers and has a high renown and status, using it gives a credibility that is backed up by years of high quality work.
Royal Charter and regulations
FAQs