Sweet success for Candy Kittens
How a Chartered Trade Mark Attorney helped a confectionery start-up realise the value of its brand.
In spring 2012, Ed Williams and Jamie Laing launched Candy Kittens, a gourmet sweet range designed to challenge and disrupt the confectionery industry. With the help of a Chartered Trade Mark Attorney, their business is now fully protected— and growing fast.
Ed and Jamie had never run a business before starting Candy Kittens, but knew they'd need protection to take on 'the big guys'.
'When we started the business,' says Ed, 'all we knew was that it was important to have a registered trade mark. We didn't really know what IP lawyers could do for us.'
That changed when Candy Kittens started working with Edward Carstairs, Chartered Trade Mark Attorney at Gill Jennings & Every. Ed and Jamie began to understand how a Chartered Trade Mark Attorney could unlock the potential of their ideas, and the value of their IP.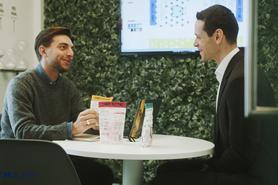 Support from Edward went far beyond trade marks, as the Chartered Trade Mark Attorney become a strategic partner to the new business owners.
'We sell sweets but we're much more than a confectionery company—at the heart of the business we're a brand,' says Ed. 'Edward has helped our business to grow in lots of different ways. And as we've grown, he has helped us realise that the value of Candy Kittens is in the idea.'
Thanks to the advice, support and services of Edward, Candy Kittens is now able to sell products in different territories and categories. All with the right protection behind the brand.
'Working as a Chartered Trade Mark Attorney goes beyond simply filing trade marks,' says Edward. 'It's about working closely with a business to understand what's important to them—making sure they retain control of their IP.
'This could be in contracts, with employees, with licensees or distributors—to make sure those parties recognise or acknowledge that the client is the owner of the IP.'
For over eight years, Edward has worked alongside Candy Kittens to help them identify the IP important to their business, understand their business plan and map their IP strategy onto it—and to make sure their client has global protection as it grows.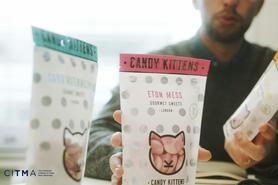 Ed goes as far as saying Edward has helped Candy Kittens to put the right strategy in place to achieve its growth ambitions.
'The right protection and governance allows us to generate the most value through the brand, attracting the best investors and the best retailers. And really future-proof the business,' says Ed.
And if he could offer advice to other businesses starting out today in the food and drink sector? 'Go and seek professional advice early, from somebody who knows exactly what they're talking about. It's how you attach a real value to your brand, making sure you're protected for years to come. Do it properly first time—you'll save a lot of time and money at that crucial start-up phase.'
Edward's advice is similar: consider your IP at an early stage, so that your IP strategy maps onto your business strategy. Also, be aware that IP goes beyond trade marks. It can involve protecting assets like product design and packaging, owning copyright of any logos or content created by another party, and getting ownership of domain names and social media accounts created in your company's name.
Ed adds: 'Knowing that Edward is a Chartered Trade Mark Attorney gives that seal of approval. If I was looking today, I'd definitely be starting at CITMA for IP and trade mark advice.'