Join us to celebrate the highlight of our summer calendar, the return of the CITMA Summer Reception.
After a two year hiatus, the CITMA Summer Reception is returning to offer an enjoyable evening of networking, learning and socialising.
Incorporating the inaugral Sheila Lesley lecture and an update from our new president, this event is an indispensable part of your Summer calendar.
Venue information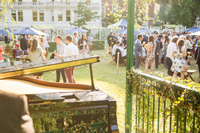 The Inner Temple marquee, which is only available for events for one month of the year, offers the perfect backdrop for enjoying the July weather and will be featuring garden games and an open bar.
In the centre of the legal district, this is the ideal place for the trade mark profession to come together.
The Inner Temple garden is well known for its beautiful flowers, with mature and meticulously maintained horticulture.
Click here to view the location on a map.
Sheila Lesley Lecture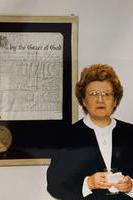 We are delighted to be incorporating the inaugural Shelia Lesley Lecture as part of the event, where a keynote speaker will be providing a CPD talk on a key topic ahead of the reception.
Sheila Lesley OBE was our first female President, serving from 1981 to 1983. She was later made an Honorary Fellow in 1993.
Sheila passed away in 2019, and generously remembered CITMA in her will. We are proud to have named this new lecture in her honour.
Programme
6pm: Registration and complimentary drink on arrival
6:45pm: Sheila Lesley lecture
7:45pm: Summer reception with open bar and canapes
10pm: Bar closes
10:30pm: Carriages
Cost
Earlybird rate, available until 3rd June
Members: £70+VAT
Standard: £80+VAT
Full price
Members: £85+VAT
Standard: £95+VAT