Black History Month: Working for an inclusive future
What does the legacy of Black history mean for you? Our panel shared their experiences and views.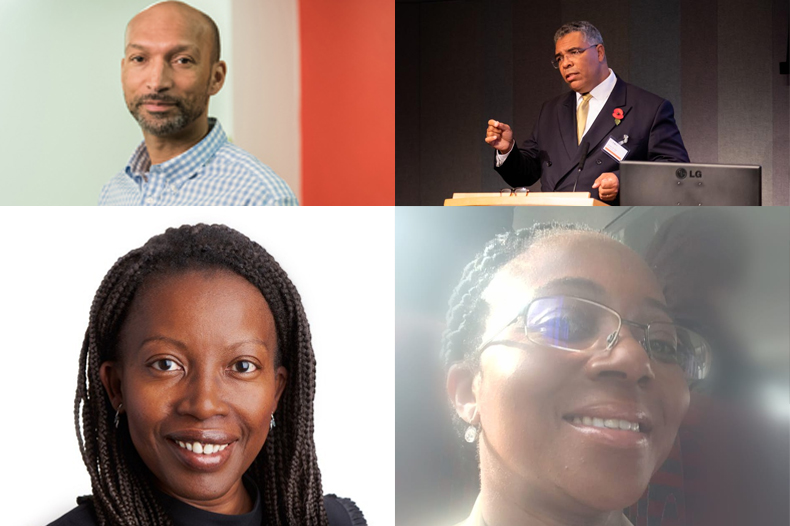 "Our job is to carry a rucksack on our back with paving stones in it and we have to lay them down so others can follow us."
James St Ville quoted these words from Dame Floella Benjamin OBE as he and the panellists of CITMA's first Black History Month webinar discussed the importance of role models in supporting people of colour in the IP industry.
This was part of a powerful and illuminating debate on the role of Black History Month and how progress can be made to ensure greater diversity in the legal profession.
James, who is a Barrister at 8, New Square, Lincoln's Inn, was joined on the panel by Doris Akufo-Addo, CITMA Trade Mark Paralegal at Stobbs, and Joseph Letang, Partner in Dehns Trade Mark Group and UK Trade Mark Attorney.
The session was chaired by Carol Nyahasha, Uk Chatereted Trade Mark Attorney at Baron Warren Redfern.
Each has more than 20 years of experience in the IP profession and they shared their journeys as people of colour in IP.
What does Black History Month mean to you?
Joseph, James and Doris grew up in the UK and had no exposure to Black history through the British education system.
Joseph recalls watching TV series 'Roots' in the 1970s about the transatlantic slave trade" which sparked an awakening to Black history.
Following the birth of his children Joseph has been spurred to discover more.
He emphasised the importance of educating children about the events and people he didn't have the chance to learn about as a child.
James noted that Black History Month has grown in profile since he was young, which he believes represents the changing landscape in his lifetime.
He agreed with Joseph that it plays a big role in parenthood, as his children studied aspects of Black history when at school in the 2000s.
The initiative has gone further, too, as he noted: "Black History Month is a symbol of the expansion of our understanding and listening, because now we talk about Black History Month across a broader landscape than just […] education; now we bring it into our professional lives."
Doris underlined the importance of Black History Month in celebrating the success of Black people in the past, present and looking to the future, and emphasised that celebrating difference is important whatever background we come from.
For Carol, growing up in Zimbabwe, Black history was a given and she is grateful that it is now becoming part of the conversation in the UK, too.
Black representation in the IP profession
The consensus among the panel was that progress is being made to improve diversity, but slowly.
There is appetite for change, but people of colour are still significantly under-represented.
Doris, James and Joseph all spoke of being the only Black person in their immediate work environment at the start of their careers.
James feels encouraged that there are several change initiatives in progress: "Younger people both at the IP Bar and in other commercial practices are really doing things to make change […]", he said.
"Things seem to be really taking off and the environment that initiatives like IP Inclusive create is really important to that."
Joseph is a member of the diversity and inclusion committee formed within Dehns' CSR group in response to the murder of George Floyd.
He has been working with various organisations that can help firms improve their approach to diversity.
As someone involved in the recruitment process at his firm he says, "One of the problems seems to be the lack of people of colour coming through universities and on into firms like ours. We need to look at universities and how we can improve the throughput of people from diverse backgrounds."
James also noted that it is not just people of colour who can struggle to access the legal profession, but anyone from a socio-economic or academic background that differs from that of typical career entrants.
To address the issue of unconscious bias in the recruitment process, Dehns has instituted approaches such as name-blind CVs and regular training to raise awareness of the risk of unconscious bias.
The importance of allies
Joseph recalled the challenges he faced getting through initial screening stages when applying for a position in an IP firm at the start of his career.
With a law degree from Wolverhampton Polytechnic he was struggling to find a position, but he was "fortunate to be taken on by someone open-minded who was willing to take a chance and give an opportunity when others wouldn't have done."
This individual was former ITMA President John Groom, who demonstrated strong allyship, something the panellists agreed is essential to driving progress.
Carol noted: "It is great to have allies who stand beside you, but the most powerful ones are those who advocate for you when you are not in the room."
James St Ville added that inviting allies to be part of diverse groups is extremely powerful as "conversations about diversity are much easier to have among wider groups of people than in your own boutique organisation; you can't raise issues in small organisations without it being specific to the individuals in those groups."
He praised the approach of IP Inclusive which invites allies to participate in each group, saying: "one learns really quickly about how to be another person's ally."
Role models and mentors
Doris recalled that, when she started in formalities, she didn't meet anyone of colour until she embarked on training and encountered the late Roy Scott, saying: "His passion made me think 'I can do this, this can apply to me.'"
Doris went on to emphasise how important it is to reach out to people in underprivileged areas and assure them that support and guidance is available.
Carol agreed it is important to recognise that you can be a role model and consider how you can make a difference to future career entrants.
James spoke about the powerful effect Floella Benjamin's words had on him and the personal growth and satisfaction that can be gained from mentoring others.
Change must be led from the top
Finally, Doris raised the point that permanent change must be initiated at senior levels within organisations, because the 'tone from the top' has a powerful trickle-down effect empowering people throughout the firm to embrace different ways of doing things.
The panellists agreed that senior leadership and commitment to change is essential.
Concluding the webinar, the panel was asked to share what would have helped them when they entered the profession.
Universally they said having a support network like IP Inclusive would have made a major difference to their experience in the industry.
Thank you to all the panellists who brought such clarity and passion to the discussion.