All in on AI
Birgit Clark investigates how and why the world's IP offices are ramping up their adoption of high-tech tools.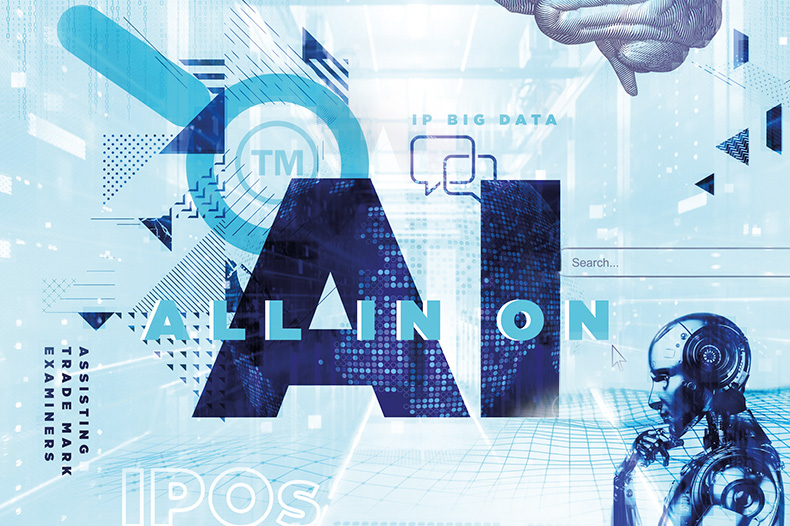 As policymakers start to decipher the wide-ranging potential impact of artificial intelligence (AI), this technology is already gaining popularity among intellectual property offices (IPOs), including in the context of trade marks.
An index of AI initiatives in IPOs published on WIPO's website illustrates how widely AI technology is now being used to facilitate IP and trade mark service delivery in different IPOs globally, encompassing more than 20 offices and territories.
Despite its increasing use, there is still no accepted legal definition of AI. For this reason, there have been various discussions about how a consensus is needed on basic definitions of AI and related concepts to allow a constructive conversation about AI and its implications for IP law and practice. However, it is most commonly defined as the science of making computers do things that require intelligence when done by humans.
In this respect, the scope of AI includes machine-learning systems, which are designed to perform human-like cognitive tasks and improve their performance in these tasks by learning from data sets without further human input and without being explicitly programmed to do so. The related concept of deep learning refers to a type of machine learning through which artificial neural networks mimic the biological structure of the brain and are able to learn either with or without human supervision.
Why use AI?
The main reasons cited by IPOs for using AI tools include gains in the speed, efficiency and accuracy of output and decision making, and therefore, arguably, increased fairness. A spokesperson for IP Australia shared with the CITMA Review that they believe "the use of cognitive computing technologies will improve the state of play for IP customers, offices and examiners. In particular, we believe it can improve the quality of output from IP offices. Through AI, we can gain efficiencies in performing administrative tasks, which will enable us to focus more on complex, substantive decision making, with a correlated increase in consistency and quality."
Many IPOs now include AI as part of their current and future strategy, focusing on their own systems and tools as well as their innovation policies. As AI can analyse large data sets quickly, it can gain insights that may otherwise be hidden within volumes of data. WIPO leads and enables co-operation among various national IPOs in pursuit of the management of IP big data and the use of AI for IPO administration. A WIPO survey from 2018 found that around 50% of surveyed IPOs have started to use AI applications for at least one business solution. A few IPOs are in the process of developing their own in-house systems that are powered by AI, while many other IPOs have started to use AI applications developed by commercial technology service providers.
Let's look at some of these tools in more detail:
Classification tools: AI technology is being used to assist trade mark examiners at various IPOs in correctly classifying trade mark specifications under the Nice and Vienna classifications, drawing on data on previously accepted, or lists of acceptable, terms. AI classification tools, including the Autochecker software tool used by the Singapore IPO and EUIPO's TMclass classification tool, assists both applicants and examiners when it comes to classifying terms. Similar tools are being used and investigated by China's National Intellectual Property Administration (CNIPA), the Japan Patent Office (JPO) and Russia's Rospatent.
Trade mark distinctiveness tools: A Trade Marks Distinctiveness Checker has been developed by the Singapore IPO, and the Australian IPO has introduced its own Smart Assessment Toolkit, which relies on machine learning from historical data sets during the examination of trade marks. These tools are not making any final decisions, but they do support examiners and users.
Image search and other comparison tools: Various IPOs (and businesses) are using, developing and exploring AI tools that help with the comparison of visual, aural and even conceptual similarity of trade marks. This is clearly one of the most promising use-cases of AI within trade mark practice.
It has already been two years since WIPO launched its state-of-the-art, AI-based search tool for trade marks, which significantly improved on earlier generations of image-search tools. WIPO's tool primarily determines the similarity of trade mark images by identifying shapes and colours in marks. This technology uses deep machine learning to identify combinations of concepts – such as an apple, an eagle, a tree, a crown, a car, a star – within an image to find similar marks that have previously been registered. WIPO has explained that this technology produces a narrower and more precise group of potentially similar trade marks, allowing greater certainty in strategic planning for brands that want to expand into new markets.
In addition, by narrowing the results so that there are fewer to scrutinise, there are labour and cost savings for trade mark examiners, lawyers and paralegals, industry practitioners and researchers. It is also being used in combination with other search tools relating to the Vienna and Nice classifications.
Since the advent of WIPO's search tool, this technology has become more widely used. For example, Singapore's IPO uses image recognition software to find the closest potentially conflicting logo or device application, and this technology is now available to applicants via an app.
In Chile, the National Institute of Industrial Property has an image search tool based on an algorithm developed by the University of Chile's Engineering School. Meanwhile, a team at the USPTO has developed AI prototypes to compare trade mark images, to suggest the correct assignment of a mark's design codes, and to determine the potential acceptability of the identifications of goods and services. A beta test of these AI prototypes through a common user interface with approximately 10 stakeholders began in November 2020, with a view to a potential larger beta test in due course. Similar technology is also being used in the context of trade mark monitoring services.
False specimen detection tools: The USPTO has tested solutions that allow for the detection of false specimens of use, using a piece of software that was integrated last December into the agency's efforts to identify digitally manipulated specimens of use or mock-ups of web pages. Similar AI tools could potentially be used to check evidence of genuine use of trade marks.
Machine translation tools: WIPO has developed an AI-powered, state-of-the-art neural machine translation tool, known as WIPO Translate, which WIPO is sharing with 14 intergovernmental organisations and various IPOs around the world. Equally, the EUIPO's Strategic Plan 2025 refers to the use of advanced technology for e-learning, including machine translation.
Communication tools: When it comes to communication between AI and humans, IPOs are already – or increasingly looking into – using various AI tools, including chatbots, to field some initial queries using natural language processing and speech recognition. Examples include AI-supported helpdesk services at the Singapore IPO and in Uruguay. A team at the USPTO is also developing an AI-based chatbot to answer frequently asked questions on the USPTO website. Similarly, last autumn, the UK IPO launched its new online tool called Trade Mark Pre-Apply, which uses a number of AI-powered checks and searches to help applicants through the application process. The EUIPO's Strategic Plan 2025 also refers to the use of advanced technology for interactive tutorials and chatbots as being key to the progress of its initiative on wider and deeper understanding of IP.
So far, the technology seems to be limited to relatively unsophisticated guided pathway solutions. However, as the technology improves and its use spreads among IPOs and the courts, it may become necessary to inform and educate users about what it means for them to be interacting with a machine.
What comes next?
Greater automation and interconnectivity between trade mark databases and registries is expected, in time, to result in the filing of an application taking place automatically as a result of an AI workstream. AI-enabled automation at some IPOs already allows the immediate generation of official electronic certificates. Beyond these more mundane administrative tasks, and with the AI technology being applied by IPOs becoming more complex, automated decision making could also become a reality. It is even conceivable that sophisticated AI solutions may, in due course, be used for preliminary decisions at all stages of the trade mark life cycle, including the appeal stage at an IPO, with formal decisions being made by examiners or an appeal board. As AI tools become more sophisticated, more complex questions will arise – for example, whether the decision of an AI tool on the similarity of trade marks or goods and services should have some kind of prejudicial relevance and how this should be considered by examiners, notably in relation to legal certainty considerations.
In summary, AI cannot yet replace an examiner's judgement, human thinking or analysis and is, even in the longer term, unlikely to replace human-to-human client contact entirely. Nonetheless, it seems fair to say that the more routine a trade mark examiner's activities or an IPO's services, the easier it will be to at least supplement these tasks using AI and other technology, freeing examiners up to focus instead on the legal work that adds the most value.
| | |
| --- | --- |
| Task | Potential/current AI use cases |
| Brand creation | AI solutions are used by branding agencies to create new word marks or logos based on deep learning/natural language processing (NLP). |
| Clearance searching | AI-enabled human judgement utilising machine learning identifies conflicting legal rights. Relevant for applicants and providers of search services. |
| Filing a trade mark application | Chatbots, apps and other AI tools can help applicants with the process. Greater automation and interconnectivity between trade mark databases allows increased automation of the application filing process. |
| Examination by trade mark registry | Classification of trade mark specifications, identification of objectionable terms of goods or services in trade marks, assessing registrability ("distinctiveness") and comparison with prior registered rights. |
| Publication for potential opposition/objection by third parties | Smart AI-based assessment toolkits could be used to predict the outcome of an opposition with a high degree of accuracy. Prediction tools are already available. |
| Registration | AI-enabled automation at some IPOs enables the immediate generation of official electronic certificates. |
| Maintenance/enforcement | Detection of fake specimens of use/evidence of use. Tools that allow detection of counterfeits online. Tools that predict the outcome and chances of success in infringement or invalidity actions. |
| Commercial exploitation | Machine learning solutions can be used to analyse the value of trade mark portfolios and licencing agreements. |
Birgit Clark is a Chartered Trade Mark Attorney and Lead Knowledge Lawyer for Baker McKenzie's global IP and technology practice group
Author