Paralegal award renamed to honour Roy Scott
The CompuMark Award, for highest achiever on the CITMA Paralegal Course, has been renamed the Roy Scott Award it was announced at our Christmas Lunch.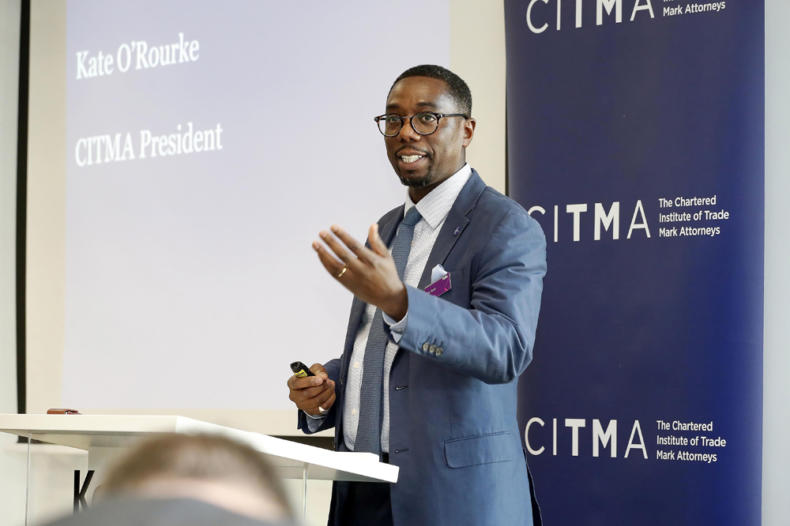 Roy Scott, who was a Senior Paralegal at Keltie LLP, took a leading role in driving forward our work on paralegals and the CITMA Paralegal Course in particular. He sadly passed away in June this year.
Roy continually helped us to develop and improve our paralegal events and learning opportunities. He was instrumental in the launch of the CITMA Paralegal category of membership and the subsequent introduction of continuing professional development (CPD) for CITMA Paralegals this year.
The first recipient of the Roy Scott Award was Dan Hardman-Smart for his continued contribution to the CITMA Paralegal Course.
There was no CITMA Paralegal exam in 2019 due to the exam date moving to April providing an opportunity to acknowledge the tireless work of Dan.
Dan has been involved for some 20 years, since he passed the course himself in 1999 and has been the CITMA Paralegal Course working group lead for the past few years.
The 2020 Roy Scott Award will be presented at next year's Christmas Lunch to the student who achieves the highest mark at the CITMA Paralegal Course exam in April.
Rob Davey, Vice President Strategy, Intellectual Property Group at Clarivate Analytics, said: We hope this will allow future generations of CITMA paralegals to understand the huge impact Roy had on our profession. Roy is massively missed, there is a large hole in the UK trade mark community following his passing."
CITMA President Tania Clark said: "Renaming this award is a fitting tribute to Roy. His work and dedication to CITMA Paralegals were unrivalled. Without his involvement, the CITMA Paralegal profession wouldn't be where it is today.
"Dan Hardman-Smart has worked tirelessly to develop the CITMA Paralegal Course, so is a fitting recipient of the inaugural Roy Scott Award."
Award winner Dan Hardman-Smart said: "Roy's infectious enthusiasm, inclusivity and drive for knowledge sharing made him one of the most recognisable IP paralegals out there. Anyone that has gone through the CITMA Paralegal Course cannot fail to have been inspired. He was truly an inspiration.
"His memory will live on in the hearts and minds of the people he crossed during his career that started in-house at the Ministry of Defence and via stints with firms of patent and trade merk attorneys and law firms, took him to Keltie. He, like his former colleagues, would be rightly proud that this award is now named after him."
The three student awards for high achieving students on the trade mark attorney qualification courses were also presented. Click here to find out the winners.