Spring Conference – day one
Attendees and speakers discussed and debated key post-Brexit issues including exhaustion and changes at the UK IPO on day one of our virtual Spring Conference.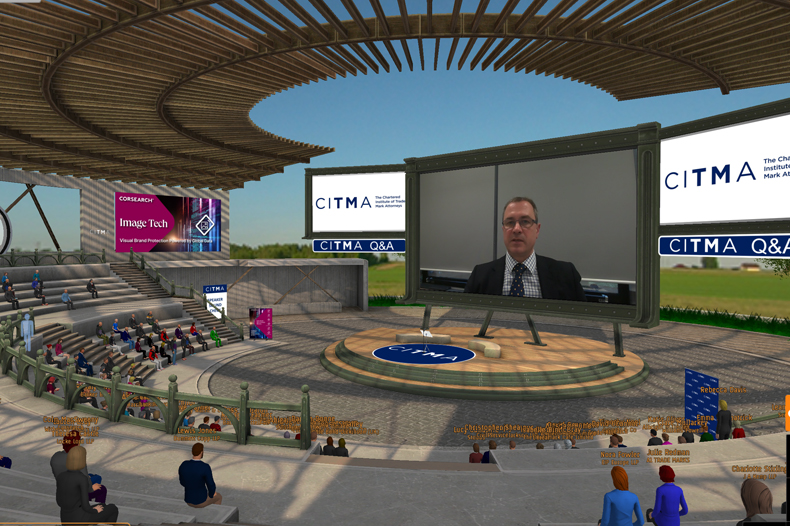 We welcomed more than 200 delegates, speakers and exhibitors to our bespoke virtual environment to learn and network together.
Each delegate has created an avatar to represent themselves in our virtual world. This allows them to navigate the platform, ask our speakers questions and visit our exhibitors' stands.
Unleashing innovation
The UK IPO's Chief Executive Tim Moss, in his key note address, set out how intellectual property (IP) can help the UK's economic recovery by "unleashing innovation".
"IP creates confidence for businesses, investors and creators across the UK. It's the confidence that an idea has support to make it off the drawing board when planning to invest and expecting a return when protecting in your ideas. The IP system can and must sit at the heart of this innovation agenda.
Tim also shared the news that this month sees the start of the UK IPO's digital transformation strategy, which will build a single integrated system for all IP rights in a common IP system.
A new patents system will be delivered as part of phase one, with trade marks and designs added in phase two.
Where are we going on exhaustion?
This was the question Michael Silverleaf QC, 11 South Square, provided his thoughts on.
"The government, having started from the position that the UK should have complete international exhaustion has moved to the position where we should have regional exhaustion within the EEA," he told delegates.
Michael expressed doubt that there would be support on this stance from within the EU and EEA, given its absence from the free trade agreement and whether it would be allowed under WTO rules.
Michael said: "Looking at the possibility of regional exhaustion, not only is there probably no support from the EU and EEA for EEA-wide exhaustion to include the UK there is real doubt whether such an outcome is compatible with WTO rules."
A recently published research paper by a team from UCL, Duke University and the University of Minnesota, argues that such an arrangement is illegitimate and would be struck down by the WTO.
Michael concluded with a stark reminder: "We enter unknown territory with little or no guidance. We have abandoned a system which had been established for nearly 50 years and step into a future which will be different in innumerable unpredictable ways."
Click here to read more about Michael Silverleaf QC's take on exhaustion
The UK IPO is due to be consulting on the exhaustion regime shortly. This was confirmed at the start of our conference by Tim Moss. He said: "The UK now has the regulatory freedom to choose its own exhaustion of IP rights regime.
"We will be consulting to determine what the most appropriate exhaustion regime for the UK will be and how any change should be implemented."
In house perspective
Our in-house panel of Diageo's Louise Butler and David Llewellyn from Arm which was chaired by British American Tobacco's Ese Akpogheneta considered the impact of Brexit on their practice.
The panellists discussed changes in filing practice, as well as expressing a desire for more certainty and clarity on who can do what before the UK and EU offices.
Surge in demand for UK trade marks
Natasha Chick, the UK IPO's divisional director for tribunals, trade marks and designs shared her insight into how things were looking post-Brexit at the UK registry.
Comparing January 2020 to 2021 UK trade mark applications were up by nearly 50% and the demand for UK registered designs was up by some 150%.
Natasha revealed that there was a dip in demand for trade marks around the start of the Coronavirus pandemic in spring 2020. However, by the summer months demand was booming – likely caused by small businesses which started up during lockdown.
There was another increase in demand towards the end of 2020, with a large number of represented customers filing UK marks before the end of the Brexit transition period.
Click here to read more from the UK IPO
UK case law update
Jade McIntryre from Allen and Overy shared her insight on some key and unusual UK trade mark cases.
She took delegates through the unusual case of 'The Royal Butler', a trade mark filed by a former royal butler to the Prince of Wales and Duchess of Cornwall.
The perennial issue of band names also came up, with Jade taking us through three cases involving Procol Harum, The Bonzo Dog Do-Dah Band and The UB40 Experience.