Survey shows importance of mental wellbeing in IP professions
IP Inclusive has published a new survey, which demonstrates that more needs to be done on mental wellbeing in the IP legal professions.

More than half of respondents to the survey have been adversely affected by stress in the preceding twelve months. With well over half also suggesting they were unable to discuss mental health problems fully with their colleagues and employers.
However, job satisfaction has seen an improvement on the previous year's survey (although that was just conducted of CIPA members) and respondents indicated a good level of awareness of accepted stress-countering strategies.
CITMA President Tania Clark said: "The results of this survey confirm that mental health and wellbeing is an important issue for the IP legal profession. The findings will be a wake-up call for many in the profession and their firms, and shows that together we need to do more.
"We are committed to working with IP Inclusive, LawCare, firms and our members to maintain an open dialogue and help tackle the stigma around mental health.
"This is an opportunity for firms to proactively evaluate the support they offer and their culture of being able to discuss mental wellbeing openly.
"Any of our members who need support can speak with the friendly team on the LawCare helpline or webchat free of charge. Their dedicated volunteers provide a safe place to talk without judgement.
"Mental health was the topic of one of our recent webinars. We were pleased more than 100 people joined us for the live broadcast.
"To ensure everyone has the opportunity to view it - we have made the webinar recording freely available as a resource for the wider IP profession.
"We look forward to working closer across the profession and seeing this have a positive impact on the mental wellbeing of our members."
The survey was completed by around a fifth of members of CITMA and the Chartered Institute of Patent Attorneys (CIPA).
IP Inclusive is a collective initiative of the IP professions to encourage diversity and inclusion.
LawCare is the charity that promotes and supports good mental health and wellbeing across the legal community in the UK and Ireland. Click here to find out more.
Click here to view IP Inclusive's mental health and wellbeing resources.
Watch our mental health webinar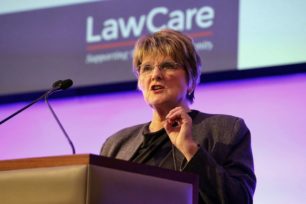 Ann Charlton from LawCare - who promote and support good mental health and wellbeing in the legal community - spoke to us about spotting signs of illness and dealing with things early.