Who's the Boss? Craft brewers vs the big boys
Craft brewers are synonymous with innovative names for beers – but what happens when their brands clash with the registered trade marks of big names?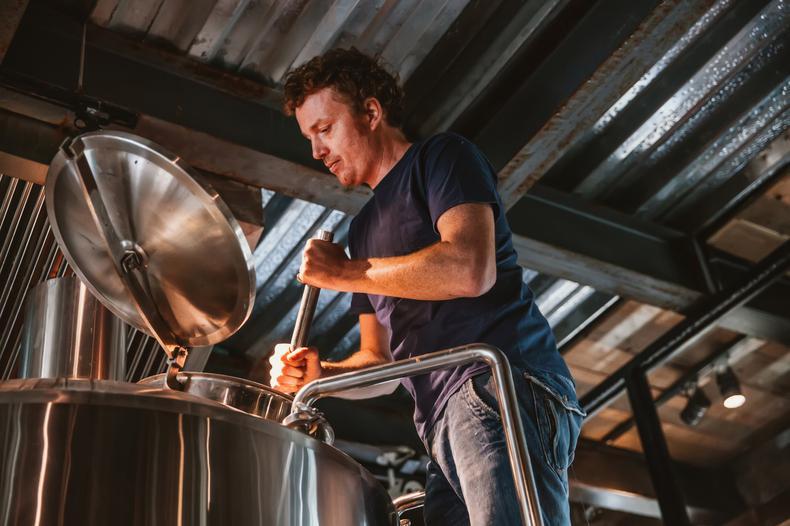 We take a look at some of the quirkier times craft brewers have come up against big boys like Hugo Boss, Pepsi and even Elvis – with some surprising results, as Chartered Trade Mark Attorney Danielle Cooksley explains.
The beer business is fast becoming a crowded field, meaning that legal battles over trade marks are to be expected. Those operating in the craft beer industry need to be alive to the risk posed not only by other brewers but by the big brand owners, too when it comes to trade marks.
Who's the BOSS?
In August 2019, Boss Brewing, a small craft beer brewery based in Swansea, received a cease and desist letter from the renowned luxury fashion retailer Hugo Boss, after seeking to register its 'BOSS BREWING' logo for beers, ciders and services for providing food and drink.
The letter from Hugo Boss allegedly claimed trade mark infringement in relation to two beer names in the brewery's collection, namely, 'Boss Black' and 'Boss Boss'. After several months of negotiations and thousands of pounds in legal fees, a settlement was reached: 'Boss Black' was renamed 'Boss Brewing Black' and 'Boss Boss' became 'Boss Bossy'. Boss Brewing also agreed to stop selling all clothing merchandise.
According to a statement made by the fashion house, they approached Boss Brewing "to avoid conflict and prevent potential misunderstanding" between the respective brands.
We'll show you who's BOSS!
With support from comedian Joe Lycett, the Swansea-based brewery decided to level the commercial playing field by appealing to the court of consumer opinion.
In March of this year, the comedian Joe Lycett announced on Twitter that he had legally changed his name to Hugo Boss. The stunt was part of a consumer rights comedy show hosted by the comedian and the Twitter announcement made it clear that the change of name was in protest against the fashion brand for what Lycett perceived to be an aggressive approach to brand enforcement.
The comedian has since changed his name back to Joe Lycett but his antics fuelled significant global media attention and undoubtedly caused a major PR headache for Hugo Boss.
Rebels clash with drinks giant
In August 2017, Newport-based craft brewer Tiny Rebel sought to register its highly stylised Clwb Tropicana logo for beers, shandy, de-alcoholised drinks and non-alcoholic beers.
Tropicana Products Inc., which is owned by drinks giant PepsiCo. Inc., became aware of Tiny Rebel's Trade Mark Application and they decided to challenge the Application, based on their earlier rights in the mark TROPICANA for non-alcoholic drinks, namely, fruit drinks and juices.
Tropicana Products Inc. succeeded in its opposition but Tiny Rebel was not prepared to give up without a fight. The brewers appealed the decision to refuse their application (in relation to beer) but their appeal failed and, eventually, Tiny Rebel was forced by Tropicana Products Inc. to change the name of its flagship beer.
"When life gives you lemons, keep making a banging Tropical IPA"
Following the dispute, Tiny Rebel published a blog entitled "99 PROBLEMS BUT TROPICANA AIN'T ONE". In that blog, they referenced their clash with Tropicana Products Inc., and announced to the world that their flagship beer would be renamed Clwb Tropica.
Determined to have the final victory, the brewery decided to launch its first non-alcoholic drink, Clwb Tropica Non-Alc. In their blog, they remarked, "being the resourceful Rebels we are, we didn't want the controversial N and A going to waste..."
Presley's estate All Shook Up over BrewDog's Elvis Juice
In 2015, the Scottish craft beer company BrewDog launched a grapefruit and blood orange infused IPA, which it named 'Elvis Juice'.
In 2016, BrewDog sought to protect the marks ELVIS JUICE and BREWDOG ELVIS JUICE for beer and ale but the company holding the trade marks of the Elvis Presley estate took exception and challenged both applications. The oppositions were based on earlier rights in the trade marks ELVIS and ELVIS PRESLEY for a wide variety of goods, including beer.
The Presley estate succeeded in its oppositions against both applications. BrewDog appealed, but the appeal was dismissed in relation to the ELVIS JUICE trade mark but upheld the appeal for BREWDOG ELVIS JUICE. This was an important win for BrewDog: they obtained a registration for and, perhaps more importantly, were free to continue using one of their most valued trade marks.
At that time, BrewDog issued a forceful statement on their website, saying that they didn't take "too kindly" to the allegations.
What's juice for the goose is juice for the gander….
The following year, BrewDog had a bit of a PR disaster.
In March 2017, after many years shouting vociferously about the oppressiveness of big beer companies, the Scottish brewer sent a cease and desist letter to a family run pub in Birmingham, which was ultimately forced to abandon its plan to adopt the name the 'Lone Wolf'. BrewDog owns a registered trade mark for the same mark in relation to beers and spirits.
After heavy backlash on social media from craft beer fans for behaving like "just another multinational corporate machine", BrewDog apologised and blamed their "trigger happy" lawyers for commencing the action. In a statement, a BrewDog founder remarked, "Although they wear suits and are mostly sensible folks, lawyers can sometimes go a bit crazy and forget the kind of business we are and how we behave".
The latest scuffle: BrewDog in the DOGHOUSE
In a recent decision by the Appointed Person, BrewDog's UK Trade Mark Application for the mark BREWDOG DOGHOUSE has been partially refused for brewing services and, significantly, hotel accommodation services.
The opponent in this particular case was Doghouse Distillery Limited, who owns earlier rights in the mark DOGHOUSE for, among other things, beer, alcoholic beverages and services for providing food and drink.
The name DOGHOUSE appears to be crucial to BrewDog's brand expansion plans. DOGHOUSE is the name of its craft beer hotel located in Columbus, Ohio and, in April of last year, BrewDog announced that it was looking for a London site for a DogHouse hotel, saying, "The DogHouse London will be nothing short of the ultimate hotel for craft beer geeks".
Will London get a new craft beer DogHouse? Watch this space!
Lessons Learned
Minimise risk
It's not possible to eliminate all risks of conflict with earlier rights holders and comprehensive clearance searches require significant sums of money. Nonetheless, anyone launching a new brand or entering a new territory should as a minimum try to avoid any obvious conflict.
It's also essential to keep in mind that the scope of protection for a brand with a reputation may be extremely broad and, in practice, a corporate giant with deep pockets will prove to be a difficult adversary.
Protect your brand
Ensuring that you are in a position to prevent others from using or registering trade marks that are the same as, or confusingly similar to, those of your business is crucial to maintaining a strong brand.
Registration is not compulsory and, in the UK, you can acquire enforceable rights through extensive use of your brand name. However, proving that you have acquired unregistered rights is an uphill struggle and protection for an unregistered trade mark is likely to be limited to the area in which you are actually selling your beer or in which consumers actually recognise it.
Beware of reputational harm
As noted above, protecting a brand is vital and brand owners should not be discouraged from policing and enforcing their rights. In fact, in some territories, if trade mark proprietors knowingly do not pursue conflicts, the validity of their rights may be questioned and, eventually, rights may be lost.
However, in the age of social media, commercial and reputational considerations should not be ignored when considering whether and how to enforce your trade mark rights.
Companies are likely to run into trouble when automated cease and desist letters are sent to potential infringers, without any thought being given to the particular circumstances in each case; every case is different and it's important to look at potential infringements on a case-by-case basis.
A Chartered Trade Mark Attorney should be your first port of call for advice on trade marks and your intellectual property. Click here to find out more about how a Chartered Trade Mark Attorney could help your business.
Danielle Cooksley is a Chartered Trade Mark Attorney at Abel & Imray
Read more food and drink insight
Author
Registered Trade Mark Attorney, Abel & Imray