Celebrate the season and enjoy a four-course menu curated by world-class chefs at the return of our prestigious Christmas Lunch.
This event will offer you limitless opportunities to celebrate with your friends and colleagues, and to enjoy the wide company at our best attended event of the year.
Enjoy a glass of bubbly on arrival before tucking in to a festive feast that will live long in the memory.
Bringing the profession together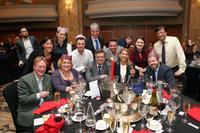 You will be joined by your peers from across the profession and we are looking forward to welcoming Chartered Trade Mark Attorneys, Barristers, IP judges, CITMA Paralegals, students and more to one of the highlights of the calendar.
The internationally acclaimed Royal Lancaster, overlooking Hyde Park, is the new venue for our first Christmas Lunch since 2019.
The Royal Lancaster underwent an £80 million renovation in 2017, cementing its status as one of London's most prestigious venues.
The lunch will incorporate the presentation of the CITMA awards, marking our profession's achievements over the past year.
Making your booking
Please note that we have now sold out of 12 seater tables, all our remaining tables can accommodate up to 10 people.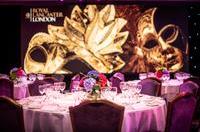 In order to ensure that you are sat with your colleagues, please book together. Alternatively, come along as an individual or small group and make new friends on the day.
By booking 10 together, you are securing an exclusive table for yourselves.
We are offering a limited number of super earlybird tickets – saving £400 on a booking of 10.
Join us to enjoy:
12pm - Networking drinks reception with a glass of prosecco on arrival compliments of Corsearch
12.45pm - Welcome address from CITMA President Rachel Wilkinson-Duffy in the Nine Kings Suite
12.50pm - Four-course meal, menu TBC
2.35pm - Awards celebration
3pm - Drinks reception with cash bar in the Nine Kings Suite
4.30pm - Afternoon comes to a close
Booking and pricing information
Super earlybird tickets, available until 2nd September:
Member: £109 + VAT
Standard: £129 + VAT
Please note there are limited numbers of super earlybird tickets available
Earlybird tickets, available until 28th October:
Member: £119 + VAT
Standard: £139 + VAT
Full price tickets, available from 29th October:
Member: £149 + VAT
Standard: £169 + VAT
Pre-ordering drinks
Pre-order your wine and drinks directly from the Royal Lancaster and your selection will be waiting for you at your table. We advise you order as early as possible, and by 22nd November at the latest.
Click here to see the wine and drinks list. You can then complete the order form and send it directly to the hotel via the details at the bottom of the form.
Celebrate success with us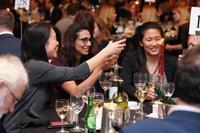 After lunch, we'll present the following five awards:
CITMA Award for the highest mark achieved by a student member on the:
Trade Mark Law Certificate at Queen Mary University of London
Practice Postgraduate Certificate at Queen Mary University of London
Professional Certificate in Trade Mark Practice course at Nottingham Law School
Postgraduate Certificate in IP at Bournemouth University
We will also present the Roy Scott Awards to the student who achieved the highest mark on the CITMA Paralegal Course.
We look forward to raising a toast with you in December.
Reaching the hotel
The Royal Lancaster is easily accessible by public transport, with both Lancaster Gate and Paddington stations less than a ten minute walk away. To explore the hotel's location on Google Maps, please click here.
Need help with your booking?
Watch our video which takes you through how to book multiple people on the same booking:
Please note:
Payment online via debit or credit card only; proforma invoices are not available.
Full terms and conditions apply.
Closing date: 25th November 2022