Autumn Conference 2021: day one round up
Our speakers covered a wide range of topics, including the roles of innovation and reputation, at the first day of our Autumn Conference.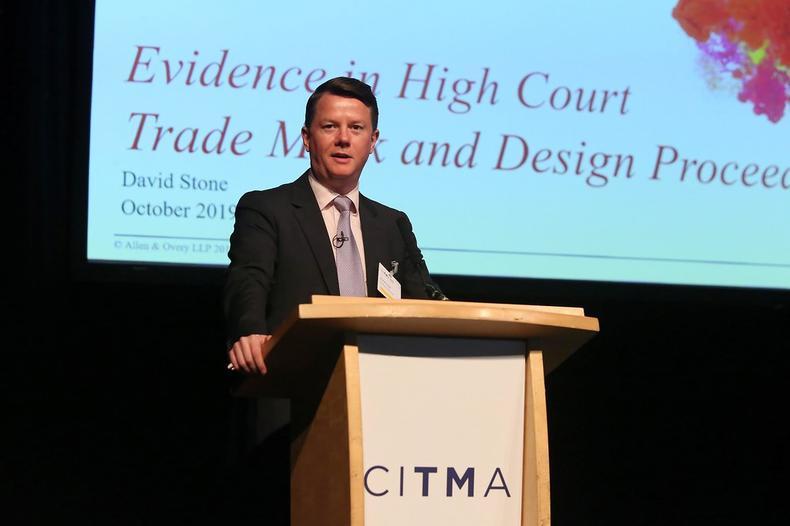 We were delighted to welcome CITMA members from across the trade mark industry to this day of networking and learning.
Keynote address from David Stone
In his keynote address, David Stone inspired us to continue practicing inclusion and maintaining the diversity and quality of the profession.
Referring to the 'twin hurricanes' of coronavirus and Brexit, he noted that the IP industry has shown "both resilience and kindness though a difficult time".
He thanked CITMA for our leadership through the tribulations of Brexit, in particular Keven Bader and former president Kate O'Rourke for their work in negotiating the best possible deal for our members and their clients.
Commenting on the diversity of the industry, David noted that the IP profession is now predominantly female and that first generation university students are now well represented. However, barriers to true diversity remain.
David commented: "None of the attributes of success are specific to white people, male people or straight people."
With COP26 round the corner, David concluded that we must continue to hold climate repercussions when making day to day decisions, particularly now that we understand the potential and effectiveness of remote working.
Reputation, reputation, reputation
"Reputations do matter. While you are setting up the legal process and really understanding what is going to happen in terms of the cases you are involved in, we are thinking about the other audiences who are not inside that legal process.
"We are thinking about people who could be employers, shareholders, investors, consumers, clients, policy makers and regulators, and through the spectrum of media and social media the general public," Claire Davison, a partner at DRD Partnership, told our Autumn Conference.
With cases being played out in the court of public opinion, it is important for us all to appreciate what makes a trade mark dispute of interest to the British media.
The criteria Claire set out are:
Legal precedent
High profile brands
David vs Goliath narrative
Public interest
Claire went on to tell delegates: "The underdog is something that the British media love. These David and Goliath trade mark stories are often about a major household name picking on something smaller. It becomes worse if you have a really fantastic face of the 'David' and a fantastic backstory."
Claire wrapped up by reminding us that we need to expect that trade mark disputes can become huge news stories across media and social media, and we need to think about how it will be perceived beyond the litigation itself. Scenario planning with clients is important, Claire concluded.
One IPO
David Holdsworth and Andy Bartlett from the UK IPO were on hand to take delegates through the UK IPO's plan to bring all its services together.
Currently trade marks, patents and designs all work across different systems – the UK IPO wants to bring this all together.
David started by putting the work into the context of the recovery from Covid and the changes following Brexit.
"The IP system is an integral part of the economic eco system for the UK and any nation across the globe. We have announced a series of initiatives to make IP more accessible to help businesses maximise the value of IP and so for us being part of that eco system is supporting the government in supercharging the economy," said David.
There has been substantial growth in trade mark applications, a strong sign of positive economic activity. David described the almost four-fold increase in monthly trade mark applications to the UK IPO.
The UK IPO is now consistently seeing between 15,000-16,000 new trade mark applications a months.
"We are growing, but we need our systems to keep pace to give you the best experience," David told delegates.
An update on UK case law
Manuela Macchi offered us a summary of key cases in UK case law this year.
She commented first on lifestyle equities v Amazon UK, which the judge described as 'not a normal case of trade mark infringement'. This case demonstrates how the impact of globalisation and the possibilities of e-commerce also come with potential pitfalls.
She then moved on to discuss Fox group international vs Teleta Pharma.
Judge Melissa Clark concluded that the threats of infringement proceedings were unfounded. Manuela highlighted the importance of thorough research to ensure that there is real infringement before issuing action or a claim.
Discussing Pliteq vs iKoustic, in which Ikoustic continued to advertise Pliteq's products after their partnership had ended, and subsequently directing customers to their own products.
However, because iKoustic were still selling off the remainder of their Pliteq stock, the judge determined that this did not amount to infringement.
Finally, Manuela commented on Philip Warren vs Lidl. In this case, an independent butcher based on Cornwall accused Lidl of passing off through their 'Warren and Sons' brand.
The case was dismissed due to a lack of evidence of misrepresentation.
It demonstrated the importance of local context when considering misrepresentation: the two providers operate at different points in the local market, and see limited crossover.
The role of innovation and ESG
Featuring Lauren Buchan of Dentsu International, Richard Danks of NatWest and Jayne McClelland of Syngenta and chaired by Eleanor Merrett of CMS, this talk covered the parallel issues of how environmental, social and governance (ESG) factors and developments in innovation change the work we do and how we do it.
On the topic of the environment, Richard noted that, as a cornerstone of a society, banks must be key players in solving climate change.
Through developments such as offering customers carbon footprint trackers, individual responsibility becomes possible.
Jayne introduced Sygenta's good growth plan, which outlines key targets based on the UN's guidance. This encapsulates initiatives for small farmers, who provide 78% of the global food supply, biodiversity and soil health among many other initiatives.
Lauren identified that the new focus on the environment is "a shift that has to be addressed", commenting that its new relevance is evident through the work she and her colleagues find themselves doing.
The social and governance elements of ESG are also evident across the board. For example, both Dentsu and Natwest are exploring virtual internships, as these may help to overcome cost and location barriers.
Richard emphasised the importance of "more of a sense of personal responsibility… what are the smaller things that I and my team can do?"
Discussing innovation, Jayne noted that, previously, innovation was perceived as achieving higher efficacy and lower residual levels. However, it now runs through every area of the industry.
She presented two key questions; "If there were no barriers, how would I do this?" and "What barriers do we need to remove to achieve our goal?"
Lauren noted; "I think innovation gets too focused on tech. It's important to remember that an innovative idea can be a simple one".
Read the round up from day two of the conference here.