School's in
Triona Desmond shares her experience of being a Stonewall Educational Role Model and her thoughts on what the world learns from public events like Pride.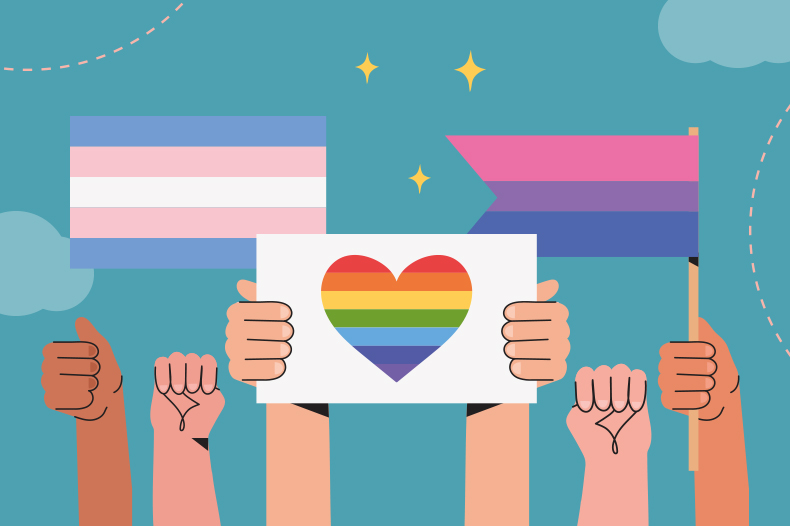 CITMA Review: Can you tell us a little about the Stonewall Educational Role Model scheme and how you came to be involved? Why was it something you felt you should give your time to?
Triona Desmond: The Stonewall Educational Role Model scheme brings volunteers from different backgrounds, with different jobs and life experiences, into schools to tell their story about growing up as an LGBT+ person. You go on a one-day training course and get tips on how to prepare and how to engage with the secondary-school students. You also meet some really interesting people on the course.
My firm, Pinsent Masons, works closely with Stonewall and sometimes provides the venue for the scheme's training course. A few places were offered to members of our LGBT+ network. I had heard how good the scheme was, and as a gay woman and mum, I thought it was a fantastic idea. I certainly believed that I would have benefited from someone coming to my own school to talk about being gay and their experience of coming out to family, friends and at work.
CR: What was your first experience of speaking like? Was it daunting? How is it different from a professional speaking engagement, for example?
TD: It was very daunting. It's quite emotional and therapeutic preparing for it and reliving your own "coming out" story. I was so nervous, but someone from Stonewall attends your first visit for support, and my first school, Woodside High School in North London, could not have been more welcoming. The staff and students were so open and warm, and I was even introduced to their "equality council" and told about the great work it did.
CR: What is the most unusual question you've been asked by a student?
TD: One memorable one was: "Do your son's dads know you've stolen their baby?" Bless them – some of the younger students were a bit confused initially by co-parenting.
CR: What kind of feedback do you get from the students you speak to – or the teachers? How do they feel it helps the students and the school community?
TD: The feedback I have received has been so positive – from both students and teachers. Students who told me they thought they could never come out to their parents or even friends seemed to gain a different perspective and felt less alone. Some students thought that they could not have kids if they were gay, so it felt really worthwhile opening up to them and showing them that parenting could still be an option. Also, my wife and my son's dads are Asian, and it resonated with students from similar backgrounds that you could be openly gay, raise a child and still be accepted by Asian families.
CR: The Stonewall website explains that nearly half of lesbian, gay, bi, and trans young people have experienced bullying. Do you have any personal experience of that kind?
TD: I wasn't "out" at school – or even professionally up until a few years ago – and I've never experienced homophobic bullying. However, hearing homophobic comments or "jokes" in the workplace over the years did contribute to my decision to remain in the closet. In the past, it concerned me that some people in influential positions were clearly uncomfortable with someone being gay. If I'd been open with them, they may have avoided working with me and stopped giving me interesting cases that could have helped my progression. Luckily, people have different views now!
In fact, before coming to Pinsent Masons, I had never worked somewhere where there was an LGBT+ network. As a result, at one firm I ended up desperately trying to hide the fact that I'm gay by referring to my now-wife as a man. While I was at another firm, I got married and had a baby, and the whole time only a handful of work colleagues knew that I was married to a woman!
CR: To what extent might a role model scheme or a mentoring scheme be useful in law/IP firms?
TD: I think mentoring is a really important initiative, and I hear so many success stories as a result of it, especially for those individuals with diverse characteristics.
CR: Who did you look to for role models yourself, as you took your steps through education and into the IP industry?
TD: Until a few years ago, I was not aware of any LGBT+ role models in IP. That's why I'm on the committee for IP Out – the LGBT+ network that is part of IP Inclusive. However, in 2018 I met Lord Smith, the first openly gay British MP and currently the Chair of IPReg. He gave an inspirational talk at one of our IP Out events and was so honest. I see him as a role model now.
CR: Did you feel that you faced any particular barriers either as a woman or as a member of the LGBT+ community – or both?
TD: When I entered the trade mark field many moons ago, it was apparent that the profession was vastly lacking in diversity and it was clear that being gay was not "the norm". However, it has progressed quite a lot and now it is so much more diverse and inclusive. There are far more women in our profession, and it is great that we can support each other through networks such as Women in IP, as well as building a community of allies.
But I'm yet to meet another lesbian trade mark attorney, although I'm sure they exist. Until people feel that the IP community is inclusive, I think they will not feel able to come out and will remain concerned that their sexual identity could affect their career.
CR: Your firm, Pinsent Masons, was Stonewall Employer of the Year 2019 and also ranked fourth in Stonewall's Top 100 Employers 2020 index. Do you feel that there's a commitment to inclusivity in the organisation on a day-to-day basis?
TD: Pinsent Masons really does prioritise diversity and inclusion (D&I) and has numerous initiatives to encourage everyone to bring their whole self to work. It has many support networks and is so transparent. Everyone is really encouraged to get involved, from attending talks by inspirational speakers to unpicking laws and policies. My favourite events are the LGBT+ film nights and its annual LGBT+ conference. Also, there are senior leaders across the business who actively participate in LGBT+ and other D&I initiatives, whether they're straight allies or gay male or female leaders. The commitment is embedded in the firm's culture and it does play a big part in terms of why I could not envisage myself working anywhere else.
CR: The concept of Pride has its origins in the Stonewall riots of 1969, which were prompted by discriminatory policing and a desire to assert human rights. How do you feel things have changed in terms of equality over recent years?
TD: I believe the fight for rights for the LGBT+ community has come a long way since 1969. Of course, the laws have changed to allow us to marry, have children and adopt, but not all LGBT+ people have the same options, especially in certain parts of the world. In particular, the trans community remains marginalised and still struggles to be accepted. There is still a long way to go.
CR: Is it important to you that organisations like Stonewall and events such as Pride exist?
TD: Absolutely. There's still a real need for organisations such as Stonewall to educate and support people and companies in relation to LGBT+ issues. Also, events such as Pride and Black Pride are so important to LGBT+ communities. People need that sense of belonging and community, especially those who are members of ethnic minority communities in which it can be particularly difficult to be out due to cultural differences and in which some people are ostracised from their families for being gay, trans or non-binary.
CR: Understandably, Pride events haven't been able to take place in person for the past year, but would you usually get involved in them? If so, in what way?
TD: I have attended Pride for years. It is so uplifting and always has a lovely sense of community. The atmosphere is fantastic, and as long as the sun shines, we always have a great day with family and friends. After we had our son, we frequently took him. Even at just 18 months old, he loved blowing a whistle and waving a rainbow flag. There is also usually some entertainment for families after the London Pride parade, which is just what you need when little legs get tired.
In 2019, my wife, son and I walked in the London Pride parade with a Pinsent Masons client, which was a great experience. Our son loved it and I got emotional when we saw family and friends along the way cheering us on. It was great that our son could get involved, and he loved the music, the drums and the beaming crowd! It was great to be part of such a powerful event.
CR: You're taking part in a CITMA webinar in June, celebrating Pride Month and discussing the importance of openness and acceptance in the workplace. Is this something that you feel would have been scheduled a decade ago? How well do you feel inclusivity has been implemented within the IP profession?
TD: Sadly, I don't think the topic would have been raised a decade ago, but better late than never. I think inclusivity is important to the IP profession now, and that is one of the reasons why I became a member of the CITMA Council. CITMA is involved in the IP Inclusive network and continues to take positive action on D&I.
CR: And to follow on from that last question, what do you think would be the point you'd most like to make at that event? What would you like the audience to take away?
TD: I hope that we can focus on practical steps that firms can take in terms of making positive changes so that others can feel comfortable to be truly out in the workplace. In particular, I am not aware of any transgender people in our field, and we have to ensure that the IP field is a safe space for all. Of course, not everyone wants to be out at work or to speak openly about their identity. I thought I was one of those people, but when you're encouraged to bring your whole self to work, it's amazing the positive effect it can have on you.
It would be good also to talk about mental health with the LGBT+ community, and the benefits of mentoring – perhaps even as a first step to creating a wider mentoring initiative. I would like the audience to leave feeling that support is available.
CR: Is there anything we haven't addressed yet that you think that readers of the Review should know or should consider around the subjects we've talked about?
TD: The best progress happens when dialogue is open and we obtain different perspectives from different people. That's why allies are so important to so many LGBT+ communities. The more people get involved, the more inclusive the IP field will become.
Triona will be a panellist at CITMA's Celebrating Pride webinar on 22nd June. Register at citma.org.uk/events
Get in touch with IP Out
IP Out is the IP Inclusive community for LGBT+ people and their allies working in the IP professions.
It provides support and networking opportunities, and it typically aims to organise around four events each year. The events, which are open for all to attend, are a mixture of talks and panel discussions, as well as more informal social events.
Find out more at ipinclusive.org.uk
Triona Desmond is a Senior Chartered Trade Mark Attorney at Pinsent Masons. She is also a member of CITMA Council and active in the Women in IP and IP Out communities of IP Inclusive.
Read the magazine
Author