Collaborations: Licensed to chill
Chris McLeod dives into the world of co-branding ventures and celebrity collaborations.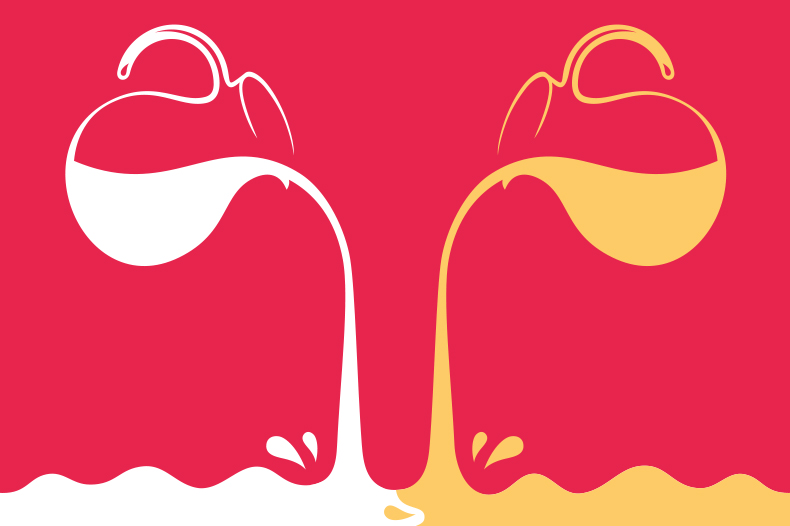 The phrase "Netflix and chill" reached its peak some time ago, but Netflix has clearly been enjoying the opportunity it offers for "collaboration". The streaming giant has been working with Ben & Jerry's on a range of ice creams, with flavours including Netflix & Chill'dTM and Chip Happens. (While not strictly relevant to this article, readers may note with interest that Chip Happens is described as: "A cold mess of chocolate ice cream with chocolatey chips and crunchy potato chip swirls". I'm sure it tastes better than it sounds...)
Ben & Jerry's web page shows the packaging of these products bearing the Netflix logo and the strapline "A Netflix original flavor". Netflix owns an EU trade mark registration for NETFLIX, covering a wide range of goods and services, including ice cream, which appears to be the basis for this use in the EU, presumably under a written licence.
It's fair to say that ice cream and binge watching Tiger King are natural couch-fellows, but there are many more examples of brands collaborating in a similar way. Some are more surprising than others. Ben & Jerry's, for example, has also collaborated with Nike on a "Chunky Dunky" trainer based on Nike's SB trainer. The non-melting footwear apparently became a cult item, selling for eye-watering prices.
A question of taste
They say that you either love it or you hate it (personally, I prefer Vegemite), but Marmite spread, a by-product of brewing, seems to be infinitely attractive to other brands.
In 2007, there was a limited edition Guinness Marmite, which was alcohol-free but contained 30 per cent Guinness yeast. At the time of writing, a sealed 250g jar was available on eBay for £24.99. Tempting perhaps, if the review from justhungry.com is anything to go by: "The top note is quite similar to that of Cenovis – a bit beery. The midnote is that of classic Marmite – salty and yeasty without any fishy undertones like in Vegemite. The aftertaste is the most interesting, however. It's bitter and slightly dark, reminiscent of a good stout. Like Guinness, as a matter of fact."
At the other end of the price spectrum, an Anya Hindmarch "Marmite sequinned recycled-satin tote bag" was recently available on the MatchesFashion website for £895. And back in more affordable territory, Marks & Spencer last year launched a Marmite butter and a Marmite cream cheese (although, sadly, this was out of stock at the time of writing).
In 2018, food manufacturer Heinz collaborated with the iconic British homewares brand Cath Kidston on a limited edition collection of soups, according to thefoodpeople.co.uk. All proceeds from the soups were donated to food bank charity The Trussell Trust.
Shoes story
I can certainly sympathise with those who have an aversion to this omnipresent leisure footwear, but given that fashionistas are regularly seen sporting them, Crocs must be doing something right. However, perhaps the most surprising collaboration here is between Crocs and fast food chain KFC.
I hate to disappoint those who were considering investing in a pair, but according to the Crocs website, the shoes have now sold out. This does not make further detail superfluous though, because there is much to love about this collaboration, from the exhortation to "Put these on your bucket list" to the fact that "each pair of co-branded footwear comes with two Jibbitz™ charms made to resemble and smell like fried chicken". A warning is given that the charms are not for human consumption, and the product description includes the promise that "these will make your dreams of wearing a bucket of chicken finally come true". I am sure all readers can relate to that.
If that hasn't sated your appetite, you may be interested to know that Crocs has undertaken many other collaborations, including with Justin Bieber, heavy metal band Kiss, actor Drew Barrymore and department store Liberty. For many, there is clearly a Croc of gold at the end of the rainbow.
According to the website of the China-Britain Business Council, Karl Lagerfeld collaborated with KFC to celebrate its 80th anniversary in 2020, producing two limited edition bags bearing the KFC and Karl Lagerfeld branding. The price tag alone probably precludes temporary storage of fried chicken in the bags.
Beers, wines and spirits
Many readers will be aware of the spat in late 2020 between Scottish brewers BrewDog and discount supermarket chain ALDI, as reported in CITMA Review Issue 461. In brief, ALDI launched a beer under the trade mark ANTI-ESTABLISHMENT BEER. The packaging resembled that of BrewDog's Punk IPA beer, with Brewdog initially stating on social media that it intended to respond by launching a beer under the trade mark YALDI IPA. The companies then agreed that ALDI would sell an ALD IPA beer brewed by BrewDog and that, for each case sold, both companies would donate a tree to a forest being planted by BrewDog. I'll drink to that outcome.
In passing, it would be remiss not to give a mention to another BrewDog beer, Barnard Castle Eye Test, which is certainly not a collaboration with former UK Government adviser Dominic Cummings, but which is described on the BrewDog website as a "short-sighted beer for tall stories". What's more, the New England, old-school IPA is "locked down and loaded".
Meanwhile, having been opposed successfully by the estate of Elvis Presley in its bid to register a US-brewed IPA under the name ELVIS JUICE in the UK, BrewDog is currently selling that beer online (at least in the UK), cheekily describing it as: "The absolute King in a world of wannabes". Presley's estate still has an ongoing opposition against BrewDog's EU trade mark application for BREWDOG ELVIS JUICE.
Without going into too much detail in what is a very crowded sector, some other standout collaborations include:
Snoop Dogg's partnership with Aussie winemaker 19 Crimes, which has brought out a wine called "Snoop Cali Red", marketed as a celebration of "True creative defiance";
AC/DC wines, produced by the band with the Warburn Estate winery and including Highway to Hell Cabernet Sauvignon, Hells Bells Sauvignon Blanc, and Back in Black Shiraz;
Heaven's Door, a range of American whiskeys developed in partnership with Bob Dylan (the reference to the iconic Dylan song being crystal clear); and
Mansinthe, an absinthe created by Swiss distiller Matter Spirits in conjunction with alt-rock vocalist Marilyn Manson.
Profitable pursuits
Collaboration is an area in which both parties can gain kudos and, presumably, substantial income. Cynics may wonder at the true level of celebrity involvement in some instances, but it is a seam which continues to be mined, apparently profitably.
The Arcadia empire has since fallen on hard times, but a major collaboration between Topshop and Beyoncé in 2016 to create the Ivy Park brand was hugely successful and well publicised until the parties fell out over the #MeToo movement. According to the Retail Gazette, Beyoncé then bought out Arcadia's share. Since 2019, Adidas has sold a range under the IVY PARK trade mark, clearly in collaboration with Beyoncé.
Readers will no doubt remember the 2013 UK passing off case involving Topshop and Rihanna, in which the singer succeeded in preventing the continued sale of T-shirts bearing her image without her authorisation. The collaboration with Beyoncé was clearly negotiated through the proper channels, perhaps as a result of this spat.
Speaking of RiRi, Rihanna's FENTY trade mark is owned by her IP holding company, Roraj Trade LLC, but the FENTY fashion clothing, footwear and accessories and the FENTY BEAUTY cosmetics range are part of the LVMH stable. Exact details of ownership are not clear. Interestingly, Rihanna's lingerie brand, SAVAGE X FENTY, is apparently independent of LVMH, so perhaps lingerie is carved out of any agreement with LVMH.
The owner of the YEEZY trade mark is Mascotte Holdings, Inc., Kanye West's IP holding company. It has an ongoing collaboration with Adidas in relation to trainers, which are clearly highly sought after. Would-be owners are required to sign up to a list to be notified when new products are released, always in limited numbers. The Farfetch website has been offering pairs starting at around £70 and rising to more than £2,000.
Unlikely collaborators
In addition to the Marmite collaboration discussed earlier, Anya Hindmarch clearly has a substantial appetite for collaboration. At the time of writing, her website was offering tote bags branded with Frosties, Fisherman's Friend, Twix, Rolo, Walkers Crisps, Mars, Cadbury Dairy Milk, Heinz Tomato Ketchup, After Eight Mints and Wrigley's Spearmint Gum, as well as clutch bags branded with the logos of Swan Vestas and Ship matches.
A few years ago, Paris-based fashion collective Vetements produced a well-documented, authorised T-shirt in the red and yellow colours of courier company DHL. The T-shirt is no longer available through Vetements, but resellers are still offering them for sale online, in some instances for upwards of $700.
Vetements has meanwhile continued and expanded its collaboration with DHL, currently offering phone cases and socks. The socks are interesting because they are a rare example of a three-way collaboration, with Reebok in addition to DHL. Yours for just €120 a pair (while stocks last).
Even Church's, a renowned and very traditional footwear brand based in Northampton, is not immune to collaboration. It has produced a collection in conjunction with Japanese fashion designer Kei Ninomiya, best known for his "noir kei ninomiya" line launched in 2012 under the Comme des Garçons brand. The collaboration consists of a range of women's shoes that "reimagine" a Church's classic – the Shannon Derby shoe – by decorating it with studs and safety pins.
Agreement terms
At the heart of any such collaboration, you would hope and expect there to be a robust legal agreement in place to protect the rights of both parties. Considering the well-publicised falls from grace of celebrities such as Lance Armstrong and Tiger Woods, it is clearly highly advisable to include in any agreement not only standard terms relating to ownership of the relevant intellectual property, jurisdictions and financial issues, but also conduct with regard to possible damage to the brand in question. Just consider, for example, the partnership agreed in the late '90s between David Beckham and Brylcreem, the manufacturer of a range of hair products. Beckham then decided to shave his head. Time, no doubt, for some awkward conversations and a probable termination of the agreement.
Despite the potential for such fallings out, the appetite for co-branding, collaborations and celebrity products shows no sign of abating, and it is often the least obvious collaborations which are the most inventive. It seems safe to conclude that we will continue to see such collaborations for many years to come.
Chris McLeod is a Chartered Trade Mark Attorney at Elkington + Fife and a member of our Council
[email protected]
Read more from CITMA Review
Author
Partner, Elkington & Fife LLP