How do a decade of Review covers reflect the changing priorities of our profession?
It's hard to believe it has been a decade since we made some significant changes to the Review, to make it even more relevant and useful to our members.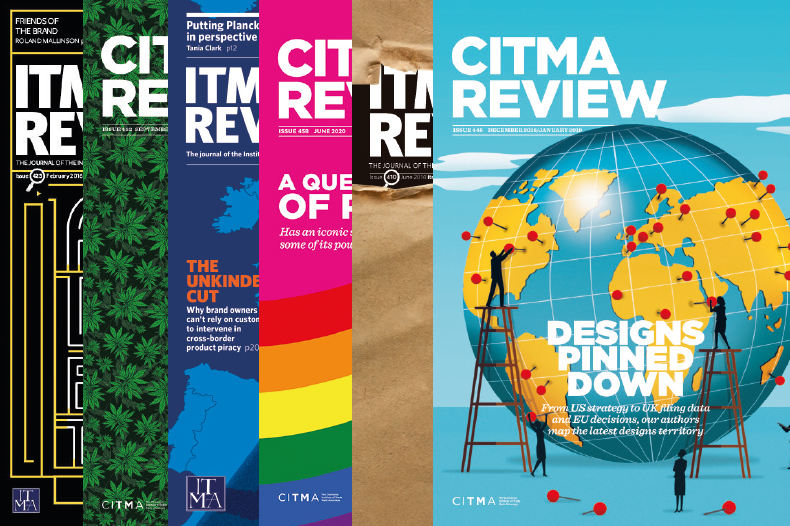 Starting with issue 385 in May 2011, we made a move towards giving more of the magazine over to in-depth features. We also decided to aim for a more design-led approach, using illustrations and imagery to help bring key issues to life, particularly on our covers.
One of the first subjects to take up a cover position was one that we'd return to several times: the debate over plain packaging for tobacco products. It warranted a cover placement back in December 2011/January 2012, appearing again in a suitably enigmatic form a few years later in issue 410, which was our first to feature no headline text. While the first article noted that the UK's use of plain packaging could put it at odds with its international obligations, the second discussed the impact of such policies in terms of EU harmonisation. From the vantage point of a post-Brexit 2021, concerns about cutting across the harmonisation agenda and the effect on free movement of goods continues to be a timely concern, but for quite different reasons.
Indeed, it will come as no surprise that the UK's relationship with the EU has been a subject we've returned to again and again, for instance providing a preview of the big changes to come from the EUTMR. More recently, of course, Brexit took centre stage – a difficult subject which prompted a raft of practical and campaigning features, as well as some striking covers.
Core concern
Issue 409, appearing in May 2014, featured our first cover story on the issue of diversity, which is now a core element of our content strategy. That feature, from Sacha de Klerk, was right to point out that the trade mark profession has been able to attract a good proportion of women – which continues to be the case – but she also reminded readers of the need to retain them as they progress so that they can play a role at Partner level.
Since that early article, and with the launch of IP Inclusive, diversity and inclusion in all its forms has formed the backbone of many of our editions. Notably, in Issue 427,
July/August 2016, Mark Bearfoot shared his perspective on being an openly gay man in the legal profession, pointing out that while he had happily found all of his workplaces accepting, this was not the experience of so many other LGBT+ colleagues.
Over the years, covers have recognised the need to ensure that everyone can reach their own potential in the workplace, including looking at how we view our mental health and examining ways to support colleagues on the autism spectrum, increase social mobility and put diversity at the heart of firms' hiring practices. These are conversations that merit our continued attention, and we're committed to keeping the discussion alive in our pages.
Whirlwind moments
Social issues that touch upon both the profession and our wider communities have also provided the basis for some stunning cover stories. Notably, our members have reflected upon the growing debate around cultural appropriation, with stories taking us from the early concerns about sporting logos all the way through to the whirlwind moment of last summer, when the Black Lives Matter protests focused all attention on the subject of how brands can address their links to historical racism and oppression.
In recent years, we've also highlighted technology's power to change the legal landscape, particularly via blockchain and AI. And the subject of sustainability and the growing threats to our environment certainly couldn't be ignored. Our member authors have taken on these tricky subjects, covering everything from the trade mark implications of upcycling to where campaigning organisations could do better in terms of protecting their brand identities.
Of course, our own landmarks have also been cause for cover celebration. Perhaps the most important was the arrival of our Royal Charter, which was the subject of our one and only special issue in November 2016, with a follow-up feature a year later. Nearly five years on, we're still fighting your corner by promoting the ongoing value of being a Chartered professional.
Read the magazine