CITMA Paralegal Conference roundup
Some 130 CITMA Paralegals gathered for a packed day of learning and networking at our inaugural CITMA Paralegal Conference in London.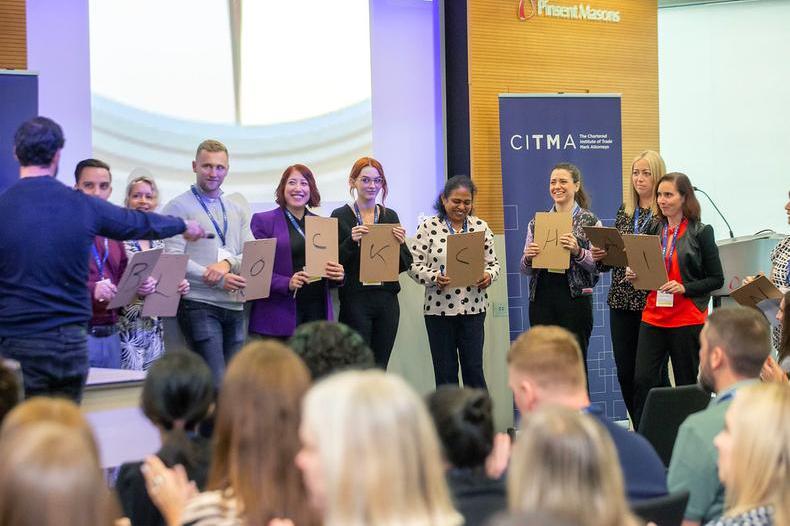 We invited leading minds from across our profession to share their insight, sending CITMA Paralegals back to the office with sharpened practical skills and renewed passion.
Kane Ridley opened the conference and paid tribute to the members who volunteer to help run CITMA events, courses and more. He also remarked on the scale and increasing importance of the CITMA Paralegal profession – demonstrated by the growing number of members and the sold-out nature of the event.
Case round up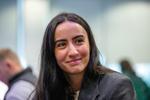 Victoria Rodrigez from Bristows delved into some key trade mark cases from the past few years to uncover what paralegals should know about them. She analysed several examples including SkyKick and the recent tussle between Lidl and Tesco over the yellow circle device.
Victoria remarked that case law has a big significance for paralegals. "It is essential that paralegals stay up to date. It is not only essential for your own day-to-day development, but also if you want to move onto other things, maybe you want to become an attorney or solicitor at some point.
"It is key in terms of guidance in what you do every day and just because you have the experience of doing something one way, it doesn't mean that there will not be a shift in practice or a different way of doing something. So, it is important that you stay up to date and know the case law," Victoria told delegates.
Workflows
Samantha Crellin from WebTMS gave delegates practical tips on managing workflows. Planning, consistency and use of technology were some of the key considerations that were put forward to help paralegals.
Samantha remarked: "There are many different ways to get your workflow to be as efficient as possible – and you can get your time back if you invest in your workflows."
IP and blockchain
A new NFT was 'minted' during Azhar Sadique's energetic talk on NFTs and blockchain.
Azhar also invited a handful of delegates on the stage to demonstrate how a blockchain works – asking the selected attendees to collectively correct some trade mark applications. This mimicked the checks a blockchain might perform to achieve a more robust outcome that can be trusted.
Typosquatting and other domain abuse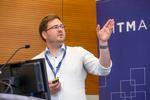 Daniel Smith-Juggins from Stobbs shared in detail some of the key considerations when it comes to action on domain names. From the practice of typosquatting (e.g. googled.com bloombreg.net) to phishing, Daniel went through a series of examples and possible remedies.
Some of the key practical takeaways included utilising pre-action steps such as takedowns, and cease and desist; as well as the importance of identifying the correct dispute provider - you cannot dispute a ".uk" in a UDRP complaint for example.
UK IPO transformation
It will impact upon the way the paralegal profession works and many of the daily tasks that paralegals perform. The UK IPO's digital transformation is set to bring about significant change when it launches for trade marks and designs in the coming years.
Simeon Bowen from the One IPO transformation team shared insight into some of the key developments and when they will be coming.
In early 2024 the UK IPO will start work on the specifics for the new digital trade marks and designs services. The trade marks and designs service is due to launch in Autumn 2025.
Simeon confirmed the work that is currently ongoing.
Multi-factor authentication to access the trade marks and designs service.
Simeon confirmed that the UK IPO is not intending to move away from deposit accounts after it received a large amount of feedback on proposals to close accounts.
The UK IPO is working on APIs to push data into IP services. This could enable renewals to be conducted via firms' IP solutions.
There will be account administrators, who would be responsible for controlling who has access within a firm and who can see what.
There will be some changes to paper forms to more closely represent the digital service.
Mental health
Mental health is a topic that is important to take seriously. Katie Behrens from IP mental health charity Jonathan's Voice shared her tips for opening up the conversation about mental health in the work place.
Her concluding advice was to:
Talk to each other
Talk to your manager or supervisor
If you're a manager, talk to your team
Have it on team meeting agendas
Work together to make things better
Jonathan's Voice has recently published a guide specifically tailored to paralegals and other support roles within our profession. Click here to take a look at the interactive guide
The complexities of proving use in the U.S.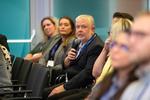 Eric Mills rounded off the day by helping to answer the "biggest question" he gets, which concerns dealing with statements of use in the U.S.
He shared insight into the steps you need to take and what evidence is acceptable when proving use in the U.S.
Specimens of use are required "during the U.S. application phase we can either file as an actual use application or an attempt to use application. If you file as actual use you have to submit the specimen when you actually file the application. If you file attempt to use you wait for the notice of allowance, or if you have use during the prosecution period before publication you will file an amendment to alleged use," Eric told delegates.
"If an application is based on a foreign application or foreign registration, or if it is filed under the Madrid Protocol, you are not required to submit a specimen at that point," he continued.
Thank you to WebTMS for its support of the CITMA Paralegal Conference this year.