Promoting disability equality in the legal profession
What difference can an open environment make for supporting people with disabilities in the IP legal profession? Our panel shared their thoughts.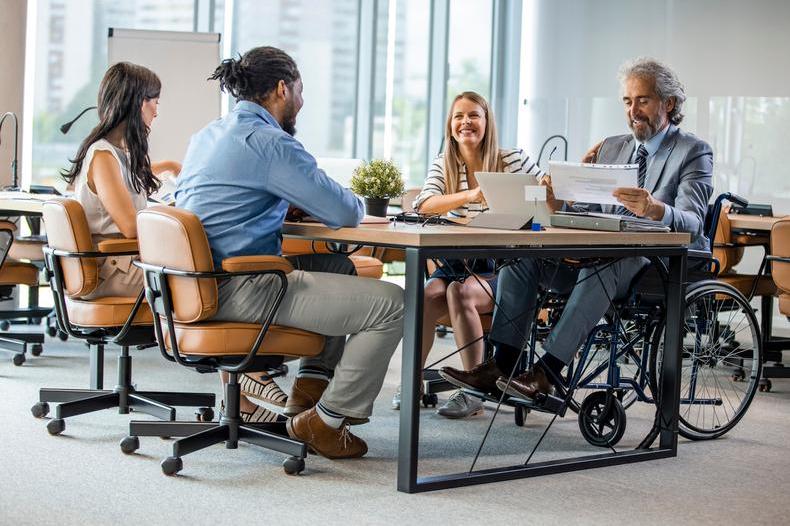 We marked Disability History Month with a webinar presented by a speaker panel, promoting equality within the legal profession.
Jane Burton, Chair of the Law Society's Lawyers with Disabilities division, led the discussion and began by sharing several valuable resources for firms aiming to improve disability support and equality:
"The talents, abilities and problem-solving skills you naturally develop as a disabled person are big assets in the legal profession […] the more firms that realise that and can be supportive and open, the better." Jane told attendees.
Developing a culture of openness around disability
The panel welcomed the increasing openness about disability – in particular hidden disabilities – that is beginning to trickle from popular culture into the workplace.
Carolyn credits Channel 4 coverage of the Paralympic Games as a gamechanger in how wider, non-disabled society engages with disabled people.
She noted that in business, too, there is a growing cohort of role models that help career entrants visualise the opportunities available to them.
Becky Campbell agreed, saying: "It's really nice that over last few years an increasing number of celebrities and high-profile people in business are talking about disabilities and showing that we're here in every layer of society.
"It might not be obvious - our conditions might not be visible, and we might not choose to talk about it - but it shows that disabled people can be a success."
A culture of workplace openness is an important pillar of support for disabled colleagues, the panel agreed, not least because the severity of a disability and the person's symptoms can change unpredictably.
This means open communication with managers and colleagues is very valuable and reassuring for individuals.
Speaking from her own experience of a complex condition, Megan said: "It makes a world of difference to have a supportive environment where you can say when things are a bit more difficult. It's understanding without any kind of judgement."
Carolyn noted that a culture of openness benefits everyone in the organisation. The ability to be your authentic self contributes to a greater sense of wellbeing and belonging, creating strong loyalty to employers.
Jane also raised the point that the "Talents, abilities and problem-solving skills you naturally develop as a disabled person are big assets in the legal profession,"
"There's not just a moral obligation to take on disabled people there's a business case too […] the more firms that realise that and can be supportive and open, the better."
The purpose and importance of Disability History Month
Becky Campbell, Associate and Chartered Trade Mark Attorney at Mewburn Ellis, who is a member of the IP Ability committee and on the new advisory board of IP Inclusive, feels that Disability History Month is a reminder of how much progress has been made in recent years.
She also raised the important point that it helps allies – who may experience disability themselves one day – to get a better understanding of the continuing challenges faced by disabled people.
Carolyn Pepper is a partner at Reed Smith and Co-Chair of the firm's LEADRS disability inclusion group.
She believes DHM is an important focus point for raising awareness about disability equality in business, saying: "For a long time, disability has been at the back of the queue when talking about diversity, equality and inclusion.
"It's been put in the "too difficult" box […] but actually it is one area that could affect us all [at some point] in our lives."
Megan Rannard, Associate and Chartered Trade Mark Attorney at Marks & Clerk, who is also on the IP Inclusive advisory board and a member of IP Ability, feels that it is important to acknowledge disabled people's struggle for equal rights, and the fact that struggle continues worldwide.
Disclosure – at what point?
On the subject of openness, the panel explored the issue of when and whether to disclose a disability. Becky and Megan both acknowledged the intense anxiety disabled people may feel about disclosing their condition.
Negative prior experiences of prejudice often have a powerful influence on the "terrifying" process of sharing information and often very personal details about the nature and impact of the disability.
Megan feels that employers need to realise how much concern people feel about disclosing their conditions and make this process as easy as possible.
Both Becky and Megan counselled firms against making assumptions about someone's condition, noting that the same condition can have very different impacts on each individual.
Barriers to employment and career progression for disabled people
The panel identified several areas that make conventional recruitment processes and working practices less accessible for people with disabilities:
Testing: the psychometric tests used by many organisations can be exclusionary to neurodiverse people who may process information in different ways and at different speeds than neurotypical people. Similarly, personality-based testing can screen out neurodiverse people who don't respond in the way algorithms are programmed to select.
All-or-nothing interview stages: the unpredictable nature of disability can mean that an interview that falls during a flare up of symptoms or fatigue will limit the candidate's ability to perform to their best potential.
Paternalism preventing progress for skilled employees: firms can have the best intentions when they modify the workload of a disabled person with the aim of reducing pressure, but this is not always in the employee's best interest.
What can firms do to promote disability inclusion?
The Law Society's resources are a good starting point for improving inclusion, and the panel emphasised several areas to explore:
Recruitment:
Pre-application stage: firms should be explicit with recruitment agencies that they are actively encouraging applications from candidates with disabilities. They should also ensure information about the accommodations and support available to disabled applicants and employees at the firm is easy to find online.
Application stage: forms should provide options for applicants to disclose disabilities if they wish to.
Interview: ensure that the interview process doesn't disadvantage disabled people. Considering asking for evidence of work-based competencies and performance over time, rather than heavily weighting interview performance.
In the workplace:
Build networks: create opportunities for disabled people and allies to meet and discuss issues relating to work and disability. With 80% of disabilities acquired later in life, employees who may not need support now could do so in future, making a culture of visibility and awareness very beneficial.
Be mindful when allocating workload: rather than diverting work from someone who is experiencing difficulties related to their condition, explore the tasks they are skilled at and consider allocating tasks on a team basis drawing on the broader expertise and competencies of the group – this is sound strategy in any case and will benefit all team members.
During the discussion the panel also discussed the impact Covid has had on workplace flexibility, noting that it has been broadly positive and helped firms focus on productivity over presenteeism.
In a final thought, Becky said: "Disability doesn't mean inability. Disabled people have so many strengths inherently and acquired through adapting to a world that might not be designed for you. All we really want is to see companies that want to get the best from everyone."
Thank you to all our speakers for a thorough and thought-provoking discussion.
Click here to watch the full webinar