Building a supportive workplace for LGBTQ+ non-traditional families
As LGBT+ access to family-building expands, it is more important than ever for employers to be aware and supportive of non traditional family formations.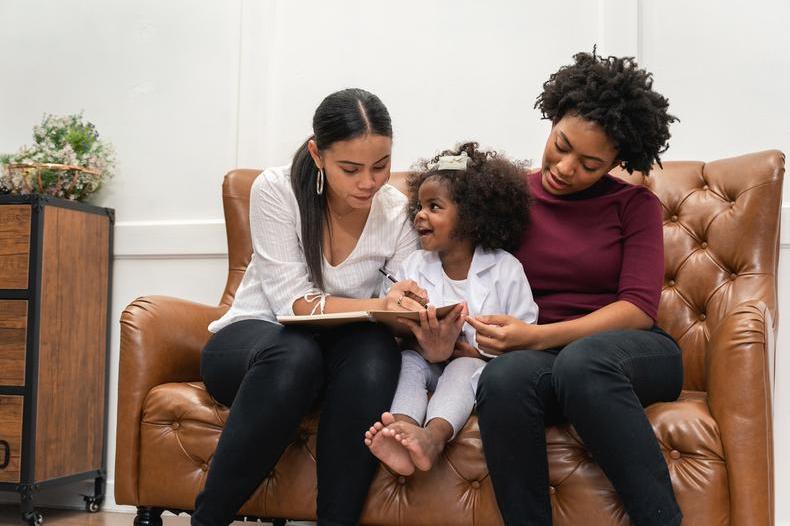 The history of family-building for LGBTQ+ people in the UK is punctuated by Acts of Parliament.
The Adoption and Children Act 2002 opened the door for same-sex couples to adopt, while the 2009 implementation of the Human Fertilisation and Embryology Act allowed lesbians and their partners equal access to legal presumptions of parentage.
In 2010, the enactment of parental orders for gay men ensured parental rights in the case of surrogacy.
These are just some of the laws governing rights to reproduction for LGBTQ+ people. They illustrate the considerable disparity that exists compared to the experience of most heterosexual people.
This is increasingly recognised by employers, as understanding grows that there are many ways to build a family and employees are not all following the same path.
Employers can find it hard to determine how to shape culture and policies to support non-traditional family-building and parenting.
This article examines some of the issues and offers tips for creating a supportive, inclusive workplace.
The broad spectrum of family building: awareness and empathy
Thanks to advances in reproductive technology and family law, there are many ways for LGBTQ+ people to build families.
Most people are familiar with the concept of gay adoption or surrogacy, and IVF or assisted reproduction (AR).
But there are also scenarios such as: IVF/AR with anonymous donor gametes; known donor with three parent family; single surrogacy; childbearing by trans men, and more.
Awareness of the variety and complexity of paths is helpful to avoid making assumptions about someone's family-building journey.
Other challenges that disproportionately affect LGBTQ+ people include:
Planning: having children as an LGBTQ+ person typically involves much more advance planning. IVF/AR requires significant medical intervention, while surrogacy and adoption arrangements involve considerable legal hurdles.
Costs: the financial burdens of IVF and surrogacy are high. Private IVF cycles can cost £5000 each, with a typical success rate of 32% for women below age 35. The cost of legal agreements must also be considered. The upfront financial commitment to starting a family for many LGBTQ+ people can affect factors such as how long they can afford to take leave to spend time with their new baby, for example.
Emotional pressure: having a child is emotional for anyone, but the pressures can be different for LGBTQ+ people. They may be facing adoption panels and uncertainty around medical procedures, feeling out of control at an important time.
Timing: when couples are undertaking IVF, for example, medical requirements start very early in the process, and employees may need to speak to HR before any have taken place. This means the company is privy to an intensely personal time not by choice, but by necessity.
All these factors call for awareness and compassion from colleagues, and particularly from managers and human resources professionals.
Policies and culture: targeting equality of outcome
Developing an inclusive culture and policies to support it is essential.
It is not easy, but it is often pointed out that making the workplace more inclusive typically benefits everyone, not just specific groups.
For example, setting clear expectations around working hours and commitments to after-work events helps people without children set healthy work boundaries as much as it helps parents with childcare commitments.
Organisations should nevertheless be conscious that offering exactly the same support to every employee does not mean they have the same opportunity to access it. Policies should address the specific challenges faced by different people.
One approach is to target equality of outcome when designing policies. If the desired outcome is that all new parents will be able to spend time with their child, the policy-writer can work back to resolve any barriers to that outcome for LGBTQ+ parents.
The outcome may well benefit more than the original group it is designed to support. For example, multinational drinks company Diageo has implemented a gender-neutral family leave policy that "[offers] men and women an equal 52 weeks' parental leave, with the first 26 weeks fully paid.
Parents employed by Diageo retain benefits and bonuses regardless of gender, sexual orientation or whether they become parents biologically, via surrogacy or adopt."
In the IP industry, the IPO is setting a strong example. Its HR policies were revised to be fully gender neutral in 2019 and it is introducing preferred or neutral pronouns on letters to customers.
Employee awareness, training and support networks
New policies to support employees when starting or adding to their families must be complemented by a proactive campaign to advertise them, so that employees can know what to expect.
Senior advocacy and awareness-raising activities set the tone and demonstrates the firm's commitment to equality.
Providing education for managers is particularly valuable. They are often the first port of call for LGBTQ+ employees needing support, so they should be offered the tools and information to help and advise those they manage with knowledge and compassion.
Finally, a practical way to promote an inclusive culture is to create, or engage with, LGBTQ+ support networks.
Large organisations may be able to build their own networks, but for smaller firms, engaging with organisations such as IP Inclusive, The IP non-traditional family network and IP Out can help LGBTQ+ people and allies find out more about the experiences of non-traditional families and support available.
As family-building continues to become more diverse, improving awareness of challenges and establishing supportive policies and culture will pay dividends by allowing more people to parent the way that is right for them and their children while pursuing fulfilling careers.
This article draws on the discussion shared in CITMA's recent webinar on non-traditional families.
Click here to read a roundup of last year's panel on other ways in which workplaces can strive for an inclusive atmonsphere.