Contentious Trade Mark Registry Proceedings - Edenborough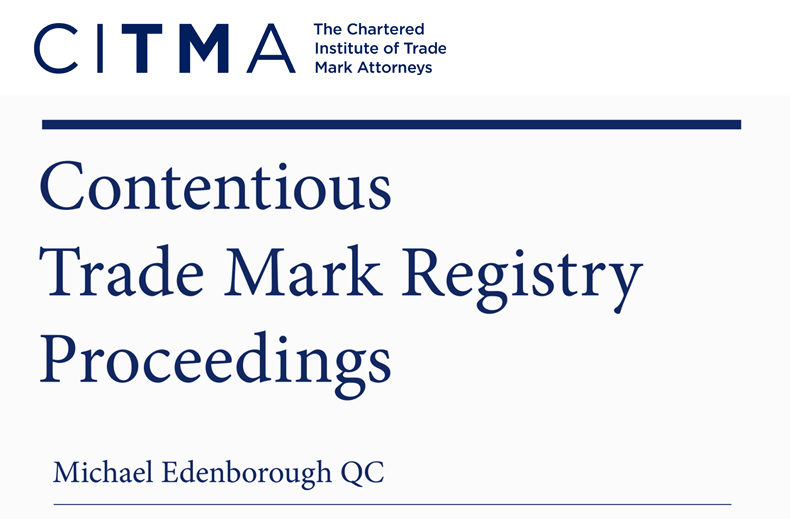 Price for non-members: £75.00
Price for members: £50.00
Contentious Trade Mark Registry Proceedings is currently the only guide devoted to the practice and procedure relating to contentious matters before the United Kingdom Trade Marks Registry.
The work covers contested ex parte applications, inter partes oppositions, revocation and invalidity proceedings, rectification applications and subsequent appeals to the Appointed Person or the High Court of England and Wales.
Designed primarily as a guide for new practitioners starting out in their careers before the UK Trade Marks Registry, it also includes guidance on more advanced issues, and so will act as a reference work for the profession as a whole.
About the author
Author Michael Edenborough QC has appeared in over 275 matters before the UK registry, and over 60 appeals before the Appointed Person.
He has also been instructed in over 50 appeals and references to the General Court and the Court of Justice of the European Union.
In addition to his trade mark work, his practice includes other areas of intellectual property such as passing-off, geographical indications, copyright and designs, and patents.
Contents
1. Introduction and General Matters
2. Statements of Cases
3. Evidence
4. Interim Applications
5. Hearings
6. Challenging a Decision
7. Costs
8. ADR, Settlement and Matters no Longer Contested.
ISBN: 978-1-999317-1-4
No. of pages: 282
Format: Hardback
Published date: April 2018
* Delivery only to England, Scotland & Wales. If you would like to order a copy and delivery is outside of England, Scotland & Wales please email [email protected]