Gain practical tips to help you adapt and generate more business opportunities in a virtual world.
COVID-19 has forced us to adapt to a new reality in which we work from home, host client meetings over Zoom and attend webinars instead of face to face events. But have you successfully adapted your business development strategy and stayed visible to your clients and contacts?
Winning new clients and nurturing your existing clients is more important than ever in today's climate, and adapting your business development strategy will help you stay ahead of the competition.
Meet your speaker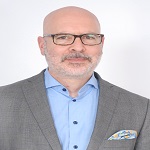 Bernard Savage, Tenandahalf
Since 1990 Bernard Savage has worked in a variety of senior sales and marketing roles in a number of market-leading organisations including Procter & Gamble, Shell and Eversheds before founding Size 10½ Boots.
Bernard is currently a director at Tenandahalf and a specialist at a business development agency that has a deep understanding of the IP market.
Bernard is a highly accomplished speaker and is regularly found on stage expounding the virtues of smarter marketing and business development practices all over the world.
He has worked with hundreds of attorneys in IP practices in the UK and overseas.
Learning outcomes
Bernard will take you through a 3-step business development approach, 'React, Refresh and Return', and answer five vital questions:
What business development lessons have we learned over the last few months?
How can you adapt your business development to take full commercial advantage of the lessons we've learned?
How can you transition successfully from crisis to recovery?
What should you be doing tactically at each stage?
How can you protect your existing relationships and keep attracting new clients while things remain uncertain?
Programme
12pm: Login available
12.30pm: Presentation
1:15pm: Q&A
1:30pm: End
Cost
Member £0 (VAT exempt)
Non-member £0 (VAT exempt)
To note
Payment online via debit or credit card only; proforma invoices are not available.
Full terms and conditions apply.
Closing date: 9am, Wednesday 21st October 2020.